←

Our Blog
Baseline Assessment - Part One
A look back at our Baseline Assessment package

In July 2022 we launched a KS2-3 transition booklet, to support the student journey from primary school to secondary school. We outlined key topics that we believe are essential knowledge to support students at the start of year 7. This was an incredibly popular resource which got us thinking about what else we could do to support teachers and students.
In September 2022 we launched our formative baseline assessment resources for teachers to use with their new year 7 students. The aim was to help teachers identify and close gaps in their students' knowledge, to build up a secure toolkit of skills which will set students up for accessing further teaching in year 7 and beyond. It included the following resources: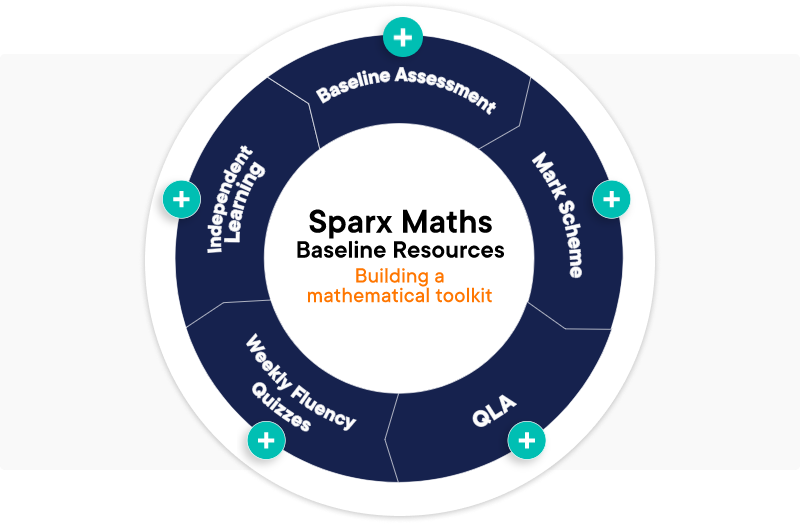 Let's take a closer look at some of these aspects.
The Assessment.
The assessment focused on carefully selected topics from KS2 that act as prerequisites for content that is typically delivered in the first couple of terms of year 7. To ensure that the assessment covered these key topics in depth, there are topics from the KS2 curriculum that were not included.
We included the following topics:
Place value
Negative numbers
Addition and subtraction
Multiplication and division
Fraction manipulation
Rounding
Factors and Primes
Area and perimeter
We also ensured a balance of fluency (skills based questions) and problem solving questions throughout the assessment.
We aimed to get a spread of difficulty across each topic, to give all students the scaffolding and challenge they needed, and to give teachers the opportunity to have a clear and detailed insight into how well their students, and classes as a whole, performed on each topic.
For example, here are the questions included for addition:
Q2a: Fluency - with scaffolding via given layout and straightforward numbers (no carrying).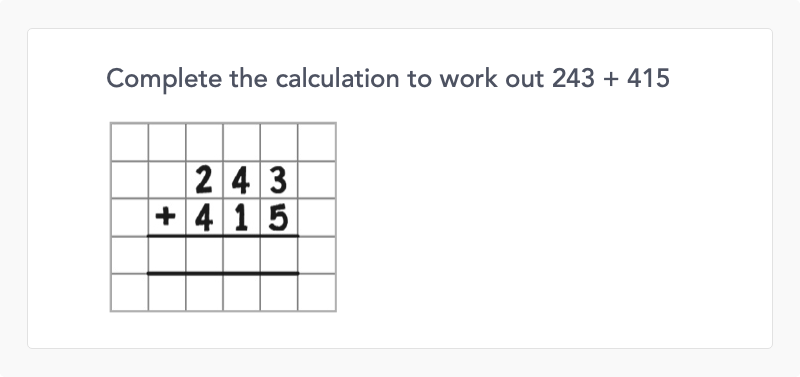 Q12: Problem solving - Interpreting a contextual question with p/£ conversion.

Q15a: Fluency - adding decimals with a carry and with a different number of digits. No layout to help align numbers correctly.

Q26a: Problem solving - Working backwards through column addition. Needs solid understanding of the method.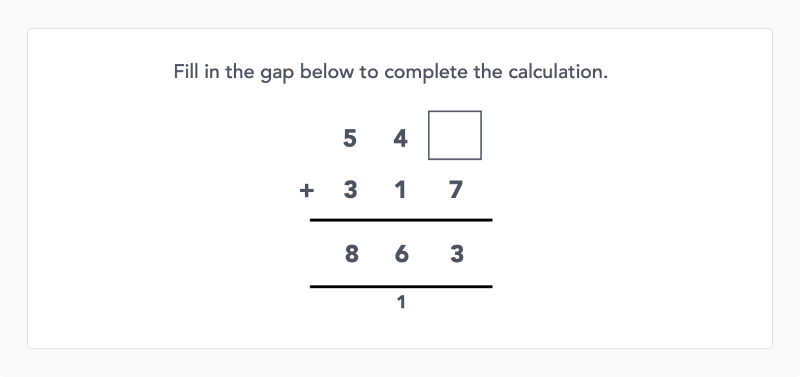 Supporting resources
From the start of this project we wanted to ensure that this assessment could be as formative as possible. We wanted students to have the opportunity to close gaps in their knowledge that might hinder them from accessing teaching of new content in the first term of Year 7. In summary, we wanted to help Year 7 secure a toolkit of essential knowledge.
Firstly, alongside a mark scheme, a Question Level Analysis tool was provided; a process which many teachers are familiar with. We wanted this QLA to show more than just a question by question breakdown, so we developed a super charged QLA!
For individual students, classes and the whole cohort, we provided:
Question level performance:

Topic level performance, split by fluency and problem solving:

And throughout the QLA, we provided independent learning codes so that Sparx users could direct their students to additional practice on topics that were least well performed.
This is all really helpful analysis, but we wanted to take this a step further and provide a mechanism for teachers to close gaps, in a low stakes way. So, we created a set of follow up fluency quizzes (12 in total) that could be used weekly with classes, containing questions covering the key concepts from the baseline assessment.
In each quiz, the difficulty of each question increases in a very incremental and considered way, allowing students to build confidence, but also be challenged to keep improving in each topic area. This mirrors a key feature of the structure of Sparx content, providing the scaffolding needed to support all learners.
An example of the progression between quiz questions is shown below for area:.

Critically, we wanted our teachers to be in control of this, so we also provided a blank template and all fluency quizzes in a summary document to help them make bespoke quizzes, if they wished to do so.
Here is how the fluency quizzes progressed from the first week to the twelfth week: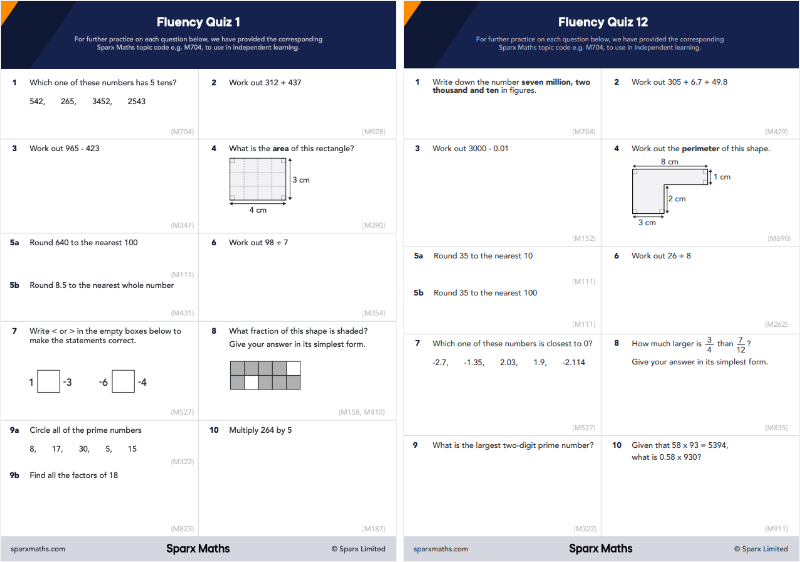 Tracking progress
Finally, how could we support teachers in determining whether gaps had been closed?
We wrapped up the baseline package by releasing a shadow assessment paper. This mirrored the initial assessment but had shadow versions of each question, which test the same skills at the same difficulty but with different numbers. This allowed results to be directly compared to the baseline assessment.
Join us for part 2 of this blog series where we will outline the analysis from data collected from this assessment and future developments we are exploring.