←

Our Blog
Homework hand-in days
Can homework hand-in days affect homework completion?

Could changing your homework hand-in day affect the homework completion of your students?
In our flagship product, Sparx Maths, teachers are able to customise both the day that a homework assignment gets handed out and the day it is due.
With this in mind, at Sparx Learning we wanted to investigate the question:
Does the day homework is set and due have a relationship with the percentage of homework assignments that are completed on time?
Before we share our data, what do you think? Have a look at the question we posed to over 500 Twitter users, and take your best guess at which day of the week we see the lowest completion rates. Do you agree with the Twitter poll?
Note: During the time period analysed a Sparx Maths' homework assignment is considered 'completed on time' if a student has answered every question in their homework correctly by 3pm on the deadline day.
Which day of the week do you think has the worst completion rate for homework?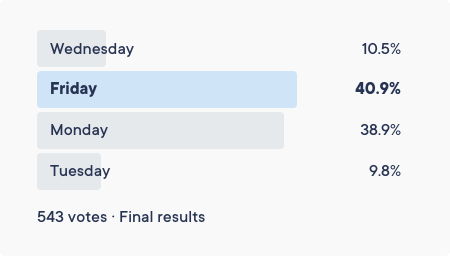 It was a tight contest between Monday and Friday, with the most common answer being Friday. In actual fact in Sparx Maths we have found that homework due on a Monday has the worst completion, with Friday completion rates being in line with the average across all week days.
But what about the best day for homework completion?
We considered the deadline completion rates of over 1 million homework assignments across the UK 2021 Autumn Term. As less than 6% of assignments were due at the weekend, for this analysis we only considered a Monday - Friday week.
For UK students using Sparx Maths, the average completion rate for homework assignments due on a Wednesday is 6% higher than the average across all weekdays, and a massive 14% higher than homework assignments due on a Monday.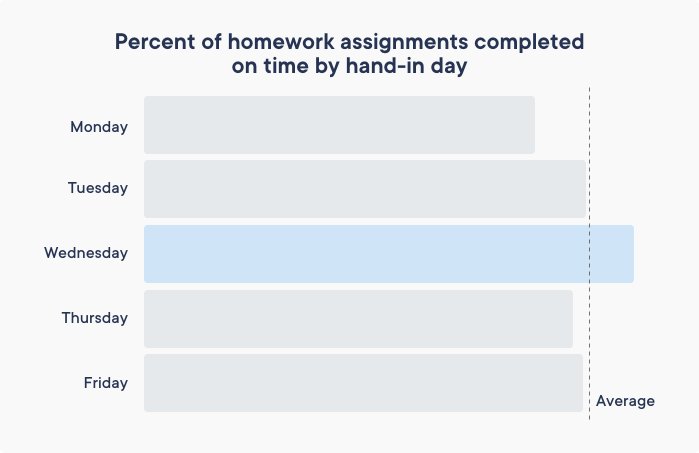 That's the equivalent of students with a Wednesday due date completing two extra homework assignments per term compared to students with a Monday due date!
There are numerous reasons why we might find that homework completion is higher for students with a Wednesday due date.
These could be coincidental factors, e.g. it could be the case that high-performing schools within Sparx Maths choose to set the homework hand-in day to a Wednesday.
Or, these could be causative factors. Interestingly, in their analysis of student absence, the FFT Education Datalab found that Wednesdays have the highest attendance rate in UK schools (Bibby, Plaister and Thomson, 2022). Perhaps a reason why we have higher completion rates on a Wednesday? Let us know at @SparxLearning if you have any other ideas!
Given these findings, we have improved Sparx Maths by defaulting to a Wednesday-Wednesday homework schedule and allow teachers to change this as they see fit. We encourage schools to not have homework due on a Monday where possible, as this leaves less time to remind students of upcoming homework.
---
Sources:
Bibby, D., Plaister, N. and Thomson, D., 2022. How school absence varies from day to day - FFT Education Datalab. (online) FFT Education Datalab. Available at: https://ffteducationdatalab.org.uk/2022/01/how-school-absence-varies-from-day-to-day/ [Accessed 25 February 2022].
At Sparx Learning, evidence and data is at the heart of what we do. We monitor usage of the Sparx Maths platform to be able to constantly improve, to ensure we are able to scale, and to help us inform best practice within schools